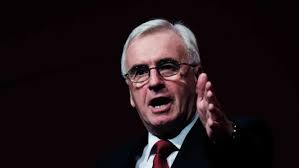 Labour will not block a second vote on Scottish independence.
Shadow Chancellor John McDonnell said any decision on another poll would be up to the Scottish Parliament – adding, "that's democracy".
His comments came after Scottish First Minister Nicola Sturgeon hinted she'd be open to a deal with Labour that would "lock the Tories out of government".
Mr McDonnell said: "It will be for the Scottish Parliament and the Scottish people to decide that.
"They will take a view about whether they want another referendum.
"We would not block something like that.
"We would let the Scottish people decide. That's democracy. There are other views within the party but that's our view."
Mr McDonnell's comments, however, fly in the face of Scottish Labour leader Richard Leonard.
He said that if Labour took power in Westminster the party would refuse to grant a "Section 30 Order" – giving Holyrood the go ahead on another vote.
Mr Leonard added: "What we said in the manifesto at the 2017 election was that there is no case for, and we would not support, a second independence referendum."