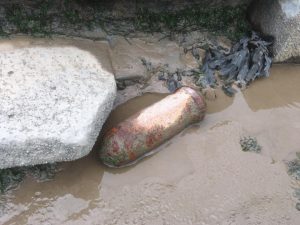 Fifteen war-time bombs found in a rock pool by fossil hunters have been blown up by a Royal Navy Disposal Team.
Two shells were found after low tides at Kilve Beach at Watchet in Somerset.
After alerting the coastguard a further 13 cases were spotted.
The area, a well-known haunt for fossil hunters along the Jurassic Coast, was cordoned off.
The Royal Navy experts from Plymouth later carried out a controlled explosion.
A HM Coastguard spokesperson said: "If you find anything suspicious on the beach or shoreline, don't touch it but instead dial 999 and ask for the Coastguard."
Click full screen to watch the explosion posted by HM Coastguard Watchet
https://www.facebook.com/WatchetCoastguard/videos/566129500458598/