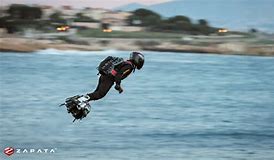 Flying Frenchman Franky Zapata has crossed the English Channel on a "hover-board" – the first person to do so.
Twenty three minutes after setting off from Sangatte beach in France the 40-year-old landed near the White Cliffs of Dover.
His wife Krystal was there to greet him.
On landing he wiped away a tear and declared "Frankly, this feels magnificent".
He added: "I'm tired – I'm not on holiday, but I'm elated.
"Thanks so much my team, and to my wife'.
"For the last five to six kilometres I just really enjoyed it.
"Whether this is a historic event or not, I'm not the one to decide that, time will tell.
"We made a machine three years ago…and now we've crossed the Channel, it's crazy.
"There were no problems this time".
It was the second time army reservist Franky had attempted the crossing.
On the last outing he crashed off a re-fuelling boat when 12 miles into the 22.4-mile crossing.
This time he used "a bigger boat".
Franky – known as "The Flying Frenchman" covered the distance at a speed of more than 85 mph, flying a good 50 feet above the sea.
French naval vessels monitored the crossing.
His hover-board – no bigger than a tea-tray – is powered by five turbo-jet engines.
Here's Franky on a training flight: