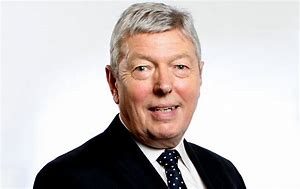 Alan Johnson, former Labour minister
Labour is heading for a "disaster" with Jeremy Corbyn as its leader, says former minister Alan Johnson.
He says the party has MPs sitting on the benches who'd do "a much better job".
He names Rachel Reeves and Yvette Cooper as people who could save Labour.
In an interview with the Guardian, Mr Johnson said: The simple problem we've got is that Jeremy Corbyn is not a leader.
"He's never going to be a leader, never wanted to be a leader, is totally uncomfortable in the role as leader.
"And on Europe he's a total disaster."
In a blistering attack on Mr Corbyn he added: "Jeremy is not just pious and sanctimonious, he's useless at leading, which is why he has people around him to do his shoelaces up, pull his strings.
"We're heading for disaster and everybody knows that."
Mr Johnson was a cabinet minister and MP for 20 years.
His comments come only days after former Number 10 spin meister Alastair Campbell said he'd quit the Labour Party.
He said Labour faced an "existential crisis" due to poor leadership.