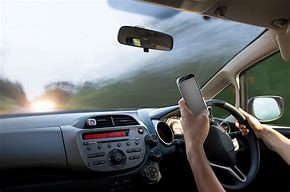 More than 2.7 million UK drivers might have crashed or gone off the road while using mobile phones.
A survey of 2,000 people by Kwik Fit reveals that in the last two years seven per cent of drivers admit having an accident or veering off-line while using mobiles.
Kwik Fit estimates that across the country those figures represent 2.7 million incidents.
The vehicle maintenance company also adds another 1.8 million drivers being put in danger by other motorists using mobile phones.
Roger Griggs, Kwik Fit Communications Director said: "It is alarming to see that so many motorists are still risking their lives and those of others by using mobile phones behind the wheel.
"There are already so many other distractions on the road that it is vital that drivers pay attention and remain focussed at all times.
"So many things can happen on the road, but unfortunately we can't prepare for everything and concentration is key.
"We encourage drivers to keep their cars maintained to ensure they are as safe as possible, but ultimately, the most important feature in the safety of any vehicle is the one behind the wheel."