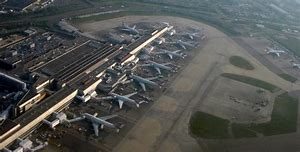 More than 88,000 passengers -many of them holidaymakers – could be hit if a 48-hour strike at Heathrow goes ahead.
It's thought one in five flights could be cancelled after union members of Unite rejected a 7.3 per cent wage rise over two years.
Talks are continuing between the two sides, but there's a serious threat that action planned for Monday and Tuesday will take place.
Unite said 88 per cent of its members who voted opted to dismiss the latest offer.
The militant union has said it'll shut down Heathrow.
An army of 1,200 staff – including top executives – are ready to stand in for the strikers.
The union warned the airport stood to pay out millions of pounds in compensation to airlines.
And a strike would cause "passenger misery" if it failed to offer workers a "fair pay rise".
A Heathrow spokesman said the compensation claim to airlines was "categorically untrue".