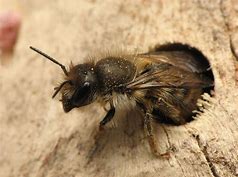 An international row has broken out over the fate of a bee brought into the UK by unsuspecting holiday makers.
The rare Turkish Osmia avosetta species found itself 2,000 miles from home after the Toy family unpacked in Bristol.
It's thought the insect had crept into a suitcase after a holiday in the coastal town of Dalaman
The Department for Environment, Food and Rural Affairs (Defra) said the bee needed to be destroyed to protect native species.
But, after hearing about the plight of the bee, a Turkish newspaper has started a campaign to save its life.
Ashley and Louise Toy have even been accused by the Turkish Bee Keepers Union of removing local wildlife.
After being discovered, the bee had been living in the Toy's conservatory busy making pouches out of petal leaves.
Defra workers have now collected the sacks which experts think probably contain larvae.
The British Bee Association warned that foreign bees endanger the colonies of local species by spreading viruses.
In the meantime – the Turkish bee has gone missing from the Toy's home.