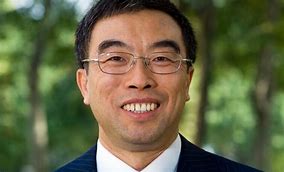 Liang Hua, Huawei chairman
By Philip Braund
Chinese tech titan Huawei saw its sales grow despite being blacklisted by America over security fears.
The first six months of 2019 brought an increase of more than 20 per cent over last year.
But chairman Liang Hua warned the company faced "difficulties ahead" for the second half.
Huawei is the world's biggest manufacturer of network gear for mobile phone companies.
It is the second largest producer of smartphones, just behind Samsung in South Korea and ahead of Apple.
Huawei is also planning to help the UK deliver its 5G network, a move that has caused concern with the Trump administration.
The US believes that Huawei uses its infra-structure to "eavesdrop" on the world's security services – something Huawei has strongly denied.
Mr Liang said: "In a way, the US government's pressure on Huawei has helped us understand our objectives better.
"It has improved collaboration across different departments, and it has galvanised our people and reinvigorated the company.
"'We have not stopped one day of production."
He told a news conference that Huawei had avoided disruption in shipments, and the company was reviewing its products to fulfil orders without relying on US components.
President Trump's administration has effectively banned Huawei from the US market.
And, it added the company to an "entity list" of firms barred from receiving US manufactured electronic parts.
In a tit-for-tat move the Chinese government posted its own list of US companies and people it deemed "unreliable".
Both sides, however, might be nearing a rapprochement as trade talks between the two take place in Shanghai this week.