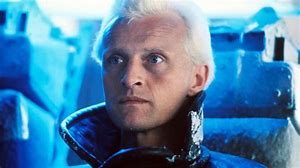 Rutger Hauer, the Dutch actor who found fame for his iconic role in Blade Runner, has died.
He was aged 75.
Hauer played murderous replicant Roy Batty in Ridley Scott's 1982 sci-fi film.
The actor gave a never-to-be-forgotten speech during a live or die confrontation with Harrison Ford at the film's end.
Hauer came up with the lines himself just before filming.
As his synthetic life slowly slips away after battling his nemesis Rick Deckard (Ford) on a roof-top in lashing rain he says:
"I've seen things you people wouldn't believe.
"Attack ships on fire off the shoulder of Orion.
"I watched C-beams glitter in the dark near the Tannhäuser Gate.
"All those moments will be lost in time, like tears in rain.
"Time to die."
Hauer said later he wanted his character – who only had a four-year lifespan – to "make his mark on existence".
The actor died in the Netherlands last week after a short illness.