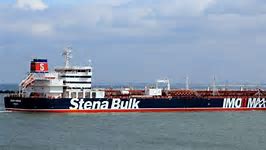 The Government is "deeply concerned" after a British-flagged oil tanker was captured by the Iranian Revolutionary Guard.
It described the taking as "unacceptable", as Foreign Secretary Jeremy Hunt warned of "consequences".
The Stena Impero was seized as she sailed in international waters through the Straits of Hormuz.
The region has been a tinderbox ever since a British warship last week chased off Iranian forces trying to capture a commercial ship.
The Iran government promised retaliation – and the taking of the Impero has realised that threat.
The Swedish owned 30,000-tonne ship, with a 23 strong crew, disappeared from tracking as she went through the Straits.
The Iranian Revolutionary Guard admitted it had boarded the ship when she allegedly failed to stop after an incident with a local fishing vessel.
The Iranian port authorities said the Impero "ignored" the fishing boat's distress call – breaking international maritime rules.
The oil tanker's operator, Stena Bulk, said its ship was "in full compliance with all navigation and international regulations".
It was, however, was no longer under the crew's control and could not be contacted.
It's believed the Impero has been escorted to port at Bander Abbas where the multi-national crew is being questioned.
After a Whitehall emergency committee meeting of COBRA Mr Hunt said:
"Yesterday's action in Gulf shows worrying signs Iran may be choosing a dangerous path of illegal and destabilising behaviour"
"Our reaction will be considered but robust."
US president Donald Trump said America would be "working with the UK".
He added: "We will talk to the UK and we have no written agreement, but we have an agreement. They've been a very great ally of ours.
"So, we heard about it, we heard it was one, we heard it was two, and we will be working with the UK."