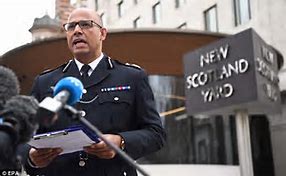 Police chief Neil Basu should "step aside" from the investigation into who leaked sensitive emails written by our man in Washington about Donald Trump.
Former Conservative cabinet minister David Davis said Mr Basu had gone "well beyond his brief" by threatening to prosecute journalists for publishing the leaked documents.
It's thought Police Commissioner Cressida Dick did not see nor agree to the press statement making the threat.
Mr Davis said: "Mr Basu should not resign. But Cressida Dick should consider transferring responsibility for the investigation to an officer who puts the preservation of our free Press ahead of protection of the state's reputation."
The Metropolitan Police's Counter-Terror Command has been tasked to find who leaked Sir Kim Darroch's memos calling the Trump administration 'clumsy and inept'.
Mr Basu, an assistant commissioner for the Metropolitan Police, said journalists who publish or share any of Sir Kim's leaked diplomatic cables could be arrested on suspicion of breaching of the Official Secrets Act.
But in a letter to the Times, former Brexit Secretary Mr Davis wrote: "During the Brexit negotiation process there were deliberate leaks of material that undermined our position.
"There were leak inquiries, but never a suggestion that there should be criminal prosecutions of the leakers, let alone the Press!"