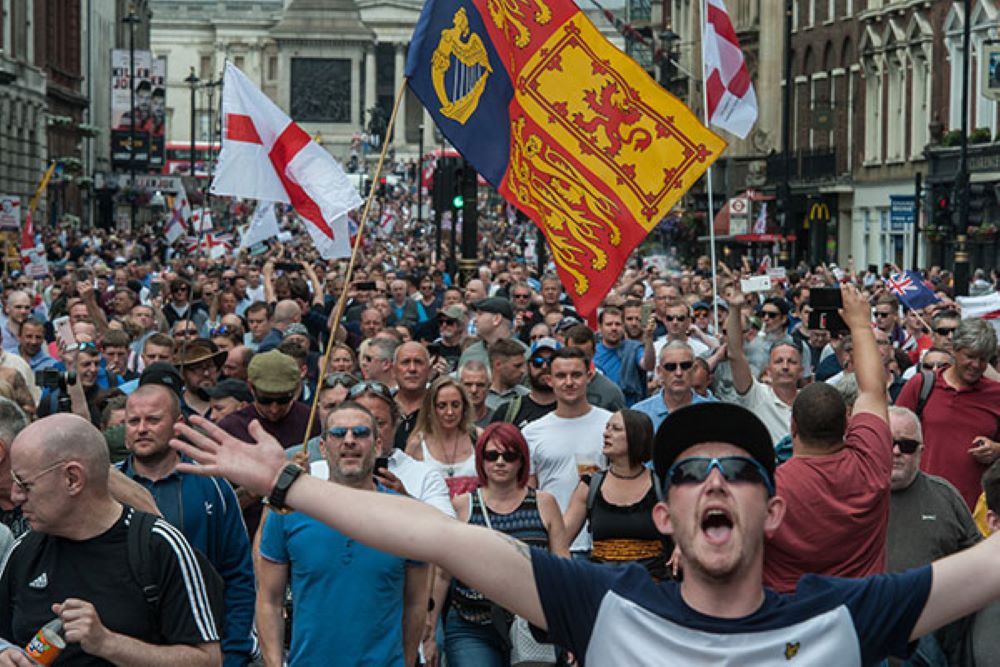 Jailed far-right leader Tommy Robinson has urged his supporters to protest outside "whichever prison" he's sent to.
Following his nine months' sentence for contempt of court Robinson used his Telegram social media account to call people to gather at the jail.
After his sentencing yesterday there was rioting outside the Old Bailey in London.
Trouble spread through the surrounding streets as his supporters set off smoke bombs and made their way to Parliament.
Bottles were thrown as the protesters battled police officers.
And, BBC film crews in Westminster were physically threatened and verbally abused.
Two men and two women were arrested for affray and public order offences.
It's thought Robinson – who's real name is Stephen Yaxley-Lennon – has been moved to the maximum-security prison Belmarsh.
Its current in-mates include Julian Assange and the Jihadi extremists who murdered soldier Lee Rigby.
Most prisoners are taken from the Old Bailey to Belmarsh before being assessed and transferred.
However, prisoners serving less than six months can expect to see out their time in Belmarsh.
Although Robinson, 36, a founder of the English Defence League, was given nine months in jail he'll only be behind bars for less than ten weeks.
Time he'd served for a previous contempt offence will be taken into account.
Robinson winked at the public gallery as he was led from the dock to the Old Bailey cells.
His Telegram account – which he uses after having his Facebook, Instagram and Twitter profiles suspended – said:
"Sentenced to prison for journalism. Time for protests to start, this is an absolute joke! Protest outside whatever prison I'm in on Saturday please."
Robinson, from Luton, Bedfordshire, was ten minutes late for his hearing, prompting the judge to say "Well, it's not a very good start, is it?".
Passing sentence, Dame Victoria Sharp said: "We are in no doubt that the custody threshold is crossed in this case, in particular having regard to the common law contempt that the respondent committed.
"Nothing less than a custodial penalty would properly reflect the gravity of the conduct we have identified."
Dame Victoria said Robinson's 11 convictions for violent crime, public order offences, fraud and disobedience of court orders were an aggravating factor.
She continued: "The respondent (Robinson) cannot be given credit for pleading guilty. He has lied about a number of matters and sought to portray himself as the victim of unfairness and oppression.
"This does not increase his sentence, but it does mean that there can be no reduction for an admission of guilt."
Richard Furlong, QC, defending Robinson, said his client might appeal the court's decision. He has 28 days to apply.
Mr Furlong apologised on his client's behalf for his late arrival.