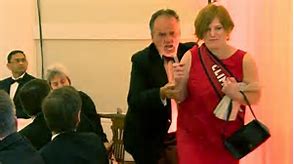 Foreign Office Minister Mark Field has been suspended from his post after forcefully grabbing a woman protester.
Mr Field was filmed pushing the woman against a column before holding her firmly by the neck and marching her out.
His suspension came after a Downing Street spokesperson said the Prime Minister Theresa May had seen the footage.
She was said to have found it "very concerning".
Bankers and politicians had gathered at London's Mansion House to hear speeches by the Chancellor Philip Hammond and the Bank of England Governor Mark Carney.
But, no sooner had the footage gone viral, than Mr Field was facing calls to resign.
The police are investigating the incident.
The protester was among a group of Greenpeace women wearing red dresses who rushed into the annual black-tie Bankers and Merchants Dinner in the City.
She was later identified as Janet Barker. She lives with her husband Peter on a 12 acres' farm in rural Wales.
The couple have more than 30 rabbits and knit items from their wool.
On the video Mr Field, can be heard saying "can you get this person out?".
Ms Barker pleads it's a "peaceful protest".
In a statement Mr Field said: "A major security breach occurred at the dinner I attended last night when a large number of protesters suddenly and noisily stormed into Mansion House.
"In the confusion many guests understandably felt threatened and when one protester rushed past me towards the top table I instinctively reacted.
"There was no security present and I was for a split-second genuinely worried she might have been armed.
"As a result, I grasped the intruder firmly to remove her from the room as swiftly as possible.
"I deeply regret this episode and unreservedly apologise to the lady concerned for grabbing her but in the current climate I felt the need to act decisively to close down the threat to the safety of those present."
Mr Field later referred himself to the Cabinet Office for investigation.
Party chairman Brandon Lewis has confirmed the matter will be looked at.
Mr Lewis said: "I've spoken to the chief whip this morning and there will be an investigation from our end."
He added: "It's hard for anybody to look at that and not be astonished at what they have seen.'
Former Army officer and Tory MP Johnny Mercer, who served in Afghanistan, was among those that defended Mr Field's actions.
He said: "If you think this is 'serious violence', you may need to recalibrate your sensitivities."