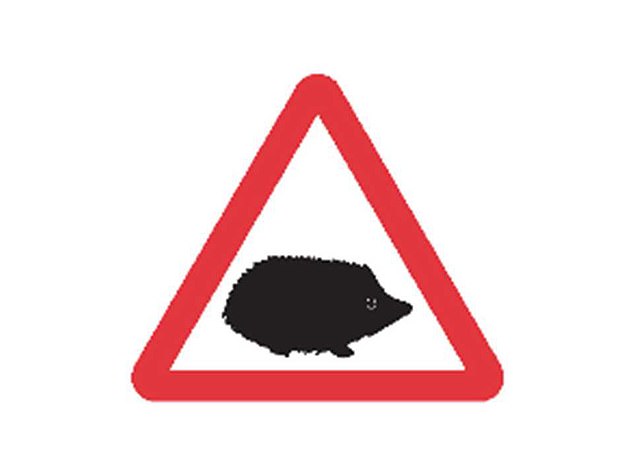 Hedgehog road signs will be used throughout the UK to warn drivers of small animals.
They will be displayed in areas that have high accident rates and large numbers of hedgehogs, squirrels, otters and badgers.
In the last 12 years Department of Transport figures reveal more than 100 people were killed, and a further 14,173 injured, in animal accidents.
The signs are also meant to reverse a rapid decline in wildlife "road-kill" – in particular, hedgehogs.
The hedgehog rural population has halved in the last 20 years, and it's dropped dramatically from 30 million in the 50s to 1.5 million today.
Transport Secretary Chris Grayling said: 'We have some of the safest roads in the world, but we are always looking at how we can make them safer.
"Motorcyclists and other vulnerable road users are particularly at risk.
"The new small mammal warning sign should help to reduce the number of people killed and injured, as well as helping our precious small wild mammal population to flourish."
Mr Grayling has asked local authorities and animal welfare groups to identify accident and wildlife hotspots where the signs should be located.
The Minister met with road safety experts, motoring organisations and animal protection groups to discuss the issue.
Janet Peto, founder of Hedgehog Welfare in Nottinghamshire, said: "Anything that can be done to save lives, and help the rapid reduction of small animals, is to be welcomed.
"Hedgehogs roam widely at night in search of food. We urge people to keep a sharp eye out for them crossing roads."