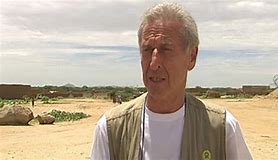 A Charity Commission inquiry into Oxfam's handling of aid workers using prostitutes after the devasting 2010 earthquake in Haiti, has delivered a damning indictment of the charity.
Following an 18 months' investigation the regulator declared that Oxfam "repeatedly fell below standards expected"
It added the charity had "a culture of tolerating poor behaviour and… failed to meet promises made on safeguarding, ultimately letting everyone down".
The 142-page report found Oxfam did not look into the allegations of child abuse by its staff in Haiti.
And, it botched claims against a charity "boss" that children as young as 13 were victims of sexual misconduct.
The Charity Commission said Oxfam was guilty of "mismanagement" and issued it with an official warning.
It said the charity needed to make "a significant further cultural and systemic change" to address its failings weaknesses.
Commission chief executive Helen Stephenson said: "What went wrong in Haiti did not happen in isolation.
"Our inquiry demonstrates that, over a period of years, Oxfam's internal culture tolerated poor behaviour, and at times lost sight of the values it stands for."
The charity was held to blame for not taking seriously the allegations of child abuse – it thought them untrue.
Victims, whistle-blowers and staff who questioned what was happening in Haiti were "let down".
Concerns of sexually abuse were raised when Oxfam aid workers were said to have used prostitutes while helping people in Haiti and in Chad in 2006.
The allegations made headlines – costing Oxfam more than 7,000 donors, enforcing £16 million cuts to worldwide projects.
Oxfam held its own inquiry, with four people being fired. Two others resigned.
At the centre of the scandal was aid chief Roland van Hauwermeiren.
He'd joined Oxfam after leaving another charity over similar allegations of sexual misconduct.
Mr van Hauwermeiren – Oxfam's former director in Haiti – resigned from medical relief charity Merlin in Liberia in 2004.
He'd been investigated over holding sex parties with local young women.
He denied the allegations but agreed to stand down.
Oxfam's chairwoman of trustees said after the Charity Commission report: "What happened in Haiti was shameful and we are deeply sorry.
"It was a terrible abuse of power, and an affront to the values that Oxfam holds dear.
"The Commission's findings are very uncomfortable for Oxfam GB but we accept them.
"We now know that the 2011 investigation and reporting of what happened in Haiti was flawed; more should have been done to establish whether minors were involved."