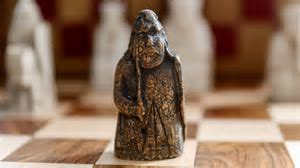 A medieval chess piece bought for £5 is set to make £1 million at auction.
The piece, made from walrus ivory, had been kept in a drawer for more than 50 years.
It was part of the Lewis Chessmen – a hoard of 93 objects – discovered nearly 200 years on the Isle of Lewis in the Outer Hebrides.
At the time of the find five pieces were missing – one knight and four warders.
The re-discovered piece is thought to be a standing warder.
Now, a family has learned the piece tucked away in a drawer had been bought by their antiques dealer grandfather in 1964 for a fiver.
It was sold to him by a fellow dealer in Edinburgh.
Neither had any idea of the importance of the 8.8 cm piece.
And, it's not known how it ended up in an antiques shop.
The family – which wishes to remain anonymous – finally took the piece to Sotheby's in London.
Experts quickly identified it as a missing Lewis Chessmen.
Sotheby's expert Alexander Kader said his "jaw dropped" when he saw the piece.
He added: "It's a little bit bashed up. It has lost its left eye.
"But that kind of weather-beaten, weary warrior added to its charm."
A family spokesman said: "My grandfather catalogued in his purchase ledger that he had bought an 'Antique Walrus Tusk Warrior Chessman'.
"It can be assumed that he was unaware he had purchased an important historic artefact.
"My mother was very fond of the Chessman as she admired its intricacy and quirkiness. She believed that it was special and thought perhaps it could even have had some magical significance.
"For many years it resided in a drawer in her home where it had been carefully wrapped in a small bag. From time to time, she would remove the chess piece from the drawer to appreciate its uniqueness."
The Lewis Chessmen is made up of seated kings and queens, bishops, knights, standing warders and pawns.
The discovery of the set is still shrouded in mystery.
It is thought to have been buried by a rich man looking to avoid taxes.
They had lain buried for 500 years.