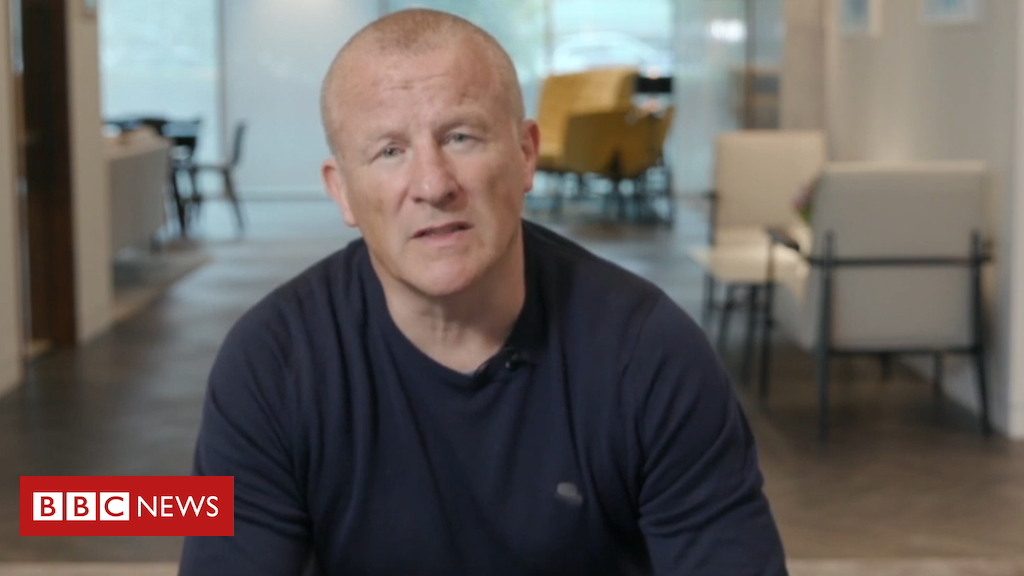 One of the UK's best known stockpickers has said he is "extremely sorry" after suspending trading in his largest fund.
Neil Woodford stopped money going in or out of his Woodford Equity Income Fund on Tuesday after increasing numbers of investors asked for their money back.
The move was "necessary to protect investors' interests", he said.
A stockpicker – or fund manager – analyses the potential of different stocks to try to decide whether or not they will make a good investment.
Investors had withdrawn about £560m from the fund over the past four weeks.
"As difficult a decision as this is, and clearly frustrating for you, our investors, we felt this was necessary to protect your interests," he said.
He said that due to the rising number of investors withdrawing funds, the stock market was "in a way anticipating the fact that we would have to be sellers of stocks to meet those redemptions."
Therefore, the prices the firm could get for those stocks "would be disadvantageous for our investors".
"I'm extremely sorry that we've had to take this decision, we will keep our investors informed. We will use this time to reposition the fund."
He said the fund needed time to reduce its exposure to illiquid and unquoted shares "to zero".
Illiquid stocks can't be easily sold quickly, and investors may make a loss on them, while unquoted shares are those in private, non-listed, companies.
The decision to suspend the fund was agreed with the fund's administrator, Link, a spokesman said.
Kent County Council had wanted to withdraw its £263m investment, but was unable to do so before trading halted.
Paul Carter, leader of Kent County Council, told the BBC: "The money invested in Woodford represents about 4% of our total pot of £6.5bn of money invested. Hopefully we will get our money out with no reduction. But that remains to be seen."
Why has Mr Woodford taken this action?
Stephen Clapham of analysts Behind the Balance Sheet said Mr Woodford had "had a very poor performance in the fund" and so people had been asking for their money back.
"This has been an accelerating thing, it's like a snowball going downhill, and I guess he's just got to the point where his fund has shrunk in size, and the illiquid – and particularly the unquoted part of the fund – has increased as a percentage of the total asset, so he's just had to do something."
Mr Clapham added he would be "very surprised" if most people who had invested in the fund knew there was a risk that at some point they would not have been able to take their money out.
"It's actually not that uncommon," he said, adding that after the Brexit referendum some property funds had taken similar action.
Mr Woodford made the apology in a video published on Youtube.
He added he would be "doing more to answer any further questions over the coming days and weeks."
Who is Neil Woodford?
Mr Woodford started his own fund five years ago, with its headquarters in Oxford.
In its first year, it gave investors a return of 18% on their money, compared with an average rise of only 2% on the London Stock Exchange at the time.
However, after the figures were released he warned: "It's far too early to conclude that the fund's strategy has worked."
Before that, the 59-year-old had worked as part of the UK equities team at investment managers Invesco Perpetual for more than 26 years.
He was appointed a CBE for services to the economy in 2013.
Are you a Woodford Equity Income fund investor? What are your thoughts? Email [email protected]
Please include a contact number if you are willing to speak to a BBC journalist. You can also contact us in the following ways: