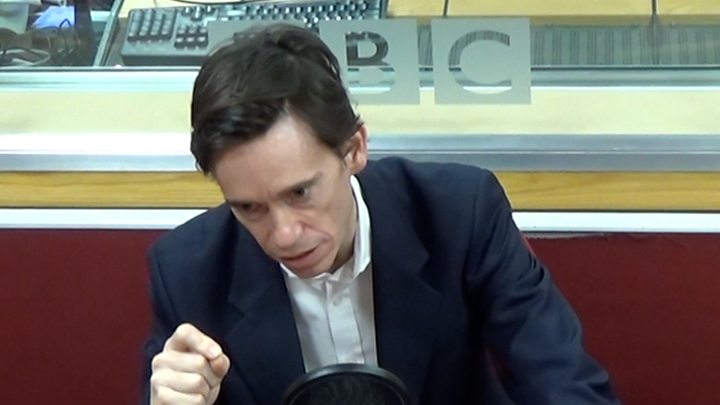 A Tory leadership candidate says his competitors' claims they could negotiate a new Brexit deal before 31 October are "misleading".
The EU set the date for the UK's exit after MPs rejected Theresa May's deal.
Some candidates say they can agree a new plan by the deadline, but Rory Stewart said there was "not a hope".
It follows Boris Johnson's warning that the Conservatives face "potential extinction" if the UK doesn't leave the EU by the end of October.
The former foreign secretary told a leadership hustings on Tuesday the party would "not be forgiven" if it failed, and said he was the candidate best placed to beat Labour and "put Nigel Farage back in his box".
The comments came as the Eurosceptic European Research Group (ERG) of Tory MPs called on leadership contenders to abandon Mrs May's Brexit deal – which was voted down in Parliament three times.
A paper published by the influential ERG said the next prime minister should sign up to the October deadline and step up preparations for a no-deal exit on World Trade Organisation terms.
International Development Secretary Mr Stewart told BBC Radio 5 Live's Emma Barnett that anyone promising to renegotiate by October was effectively committing to leaving without a deal because it was impossible.
"Politicians need to stop pretending they are going to get a new deal from Brussels," he said.
New rules
Mr Stewart and Mr Johnson are two of 11 candidates running to become the next leader of the Conservative Party, and the next UK prime minister.
On Tuesday, two pulled out of the leadership race as the party tightened the rules for the contest amid concerns about the size of the field.
Candidates will now need the support of eight MPs to take part in the race, and to secure of 5% of the vote in the first round, and 10% of the vote in the second round, to progress.
Charles Walker, the acting joint-chair of the Tory backbench 1922 Committee, said it was "not unreasonable for someone seeking to be leader of the party and prime minister to be able to muster" that level of support.
He told BBC Radio 4's Today programme that he expected the Parliamentary side of the leadership contest – where MPs narrow the field down to two final candidates – to take no more than two weeks.
The winner will then be chosen by the wider membership of the Conservative Party.
Who will replace Theresa May?
The winner of the contest to lead the Conservative Party will become the next prime minister.
Mr Johnson suggested the solution to the current deadlock would be to replace the Irish backstop – the controversial insurance policy designed to maintain an open border – with "alternative arrangements" so as to facilitate a "managed exit" from the EU.
The Tory MP, who has insisted the UK must leave by the end of October with or without a deal, said a no-deal exit would cause "some disruption".
But he warned that demands for another referendum on the UK's future in Europe would grow if the country was forced to seek another extension from the EU.
He insisted: "I believe I am best placed to lift this party, beat Jeremy Corbyn and excite people about conservatism and conservative values."
'Lack of realism'
Mr Stewart criticised Mr Johnson's plans directly – namely his pledge to renegotiate the Irish backstop or leave without a deal.
He said: "Anyone who knows anything about Europe can assure you there is not the slightest hope of getting a new deal through Europe by 31 October. Not a hope. Europe itself is in transition – they've just had elections, they are appointing a new Commission, they don't even have a negotiator in place.
"There is a lack of realism. We have seen painfully over two and a half years what Europe is doing. Anyone… who is pretending that they're going to go to Brussels and get a different deal simply doesn't understand Brussels, hasn't been following the news, doesn't understand what's happening in Europe at the moment and doesn't understand that the European position is very, very clear.
"Anybody offering that is offering one thing only; they are offering to try to get no deal through in October, because there is no other deal coming."
Earlier, Defence Secretary Penny Mordaunt would not be drawn on whether she planned to enter the leadership race, but she claimed that nobody wanted a no-deal Brexit, and the EU "understand they have to move on some things".
Speaking to BBC Radio 4's Today programme, the Brexiteer said: "I stayed in cabinet and fought to try and get a deal and to try and build a consensus, both in my party and but also in Parliament.
"What we have learnt though is if you are trying to get that objective, you can't take no deal off the table."
Fellow Leave-backer and Tory MP Steve Baker told BBC's Politics Live he had not decided whether to run, but said the party needed someone "very direct [and] with a clear plan" for Brexit.
What do you want to know about Brexit?
Use this form to ask your question:
If you are reading this page and can't see the form you will need to visit the mobile version of the BBC website to submit your question.