One in four UK parents (24 percent) believe children are struggling to complete lessons and schoolwork because of poor quality internet connection.

More than half (54 percent) of parents say they have had to invest money in technology to support their children in learning at home, of which one-in-ten has been forced to spend more than £500.

Huawei donates 250 Huawei Pupil Packs with a value of over £60,000 to five secondary schools in the Manchester area, in the support of the Greater Manchester Tech Fund.
Manchester, UK. February 2021. New data from YouGov Research, commissioned by Huawei UK, reveals millions of children across the UK are being held back in the virtual classroom, exposing a nationwide digital divide felt by families.
The research shows one in four UK parents (24 percent) believes children are struggling to complete lessons and schoolwork because of poor quality internet connections. More than half (54 percent) of parents surveyed say they have had to invest money in technology to support their children in learning at home, while one-in-ten (12 percent) has been forced to spend more than £500 since the first national lockdown.
The YouGov survey reveals that many households across the country are resorting to tactics such as switching off video during calls, tethering to a mobile connection or restricting internet access in the hope of securing a stable connection.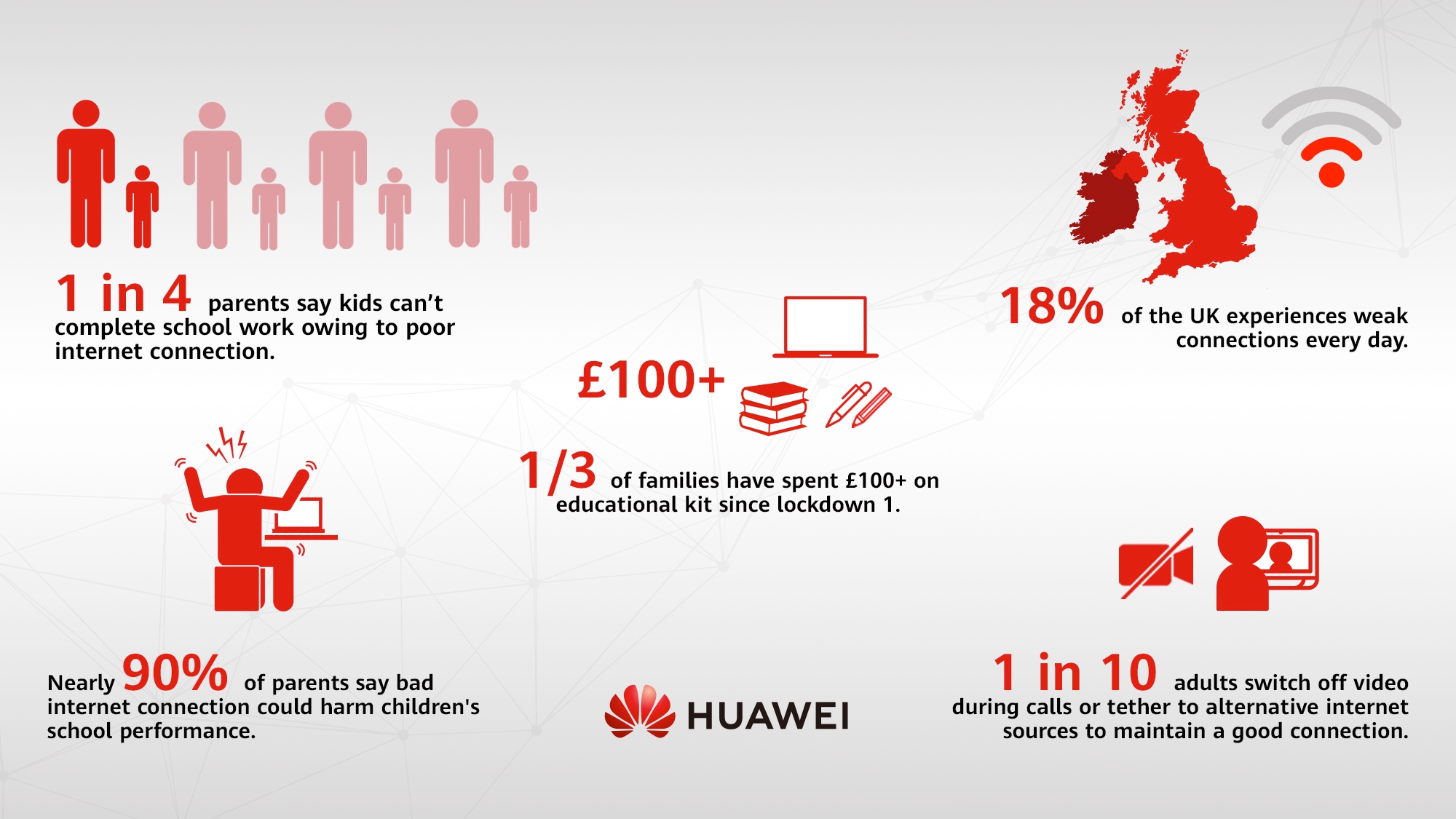 The survey of 4,000 UK adults also found that 86 percent of respondents believe that poor quality internet connections will have a negative impact on educational attainment, while 88 percent also said that having a reliable connection is important to the overall wellbeing of children during lockdown.
The polling comes as Huawei donates 250 Huawei Pupil Packs with a value of over £60,000 to help pupils most in need and to help break down the barriers in remote education.
The Huawei Pupil Packs – which contain a Huawei MatePad T3 10 tablet, a Huawei 4G B311 Wireless Router and a sim card pre-loaded with data, courtesy of Three UK – are being donated to pupils at schools identified by the Greater Manchester Tech Fund as those which would benefit most from new hardware.
The packs will ensure pupils have both the hardware and connectivity required for remote learning. Each of these schools are receiving 50 Huawei Pupil Packs:
– Longdendale High School in Hyde
– Sharples School in Bolton
– The Derby High School in Bury
– Burnage Academy for Boys in Manchester
– Byrchall High School in Wigan
Karl Harrison, Head, Burnage Academy for Boys said:
"We serve communities in the most deprived areas of the inner city and some of our parents do not have the means to be able to provide the devices needed at present for their children. The fantastic generosity of Huawei will make an enormous difference to so many of our families and give our boys the opportunity to access remote learning in the pandemic.
This is truly humbling in the most challenging of times and we offer our most sincere and heartfelt thanks."
Diane Modahl, Lead, Greater Manchester Tech Fund said:
"In Greater Manchester, we believe that our young people deserve every chance to fulfil their potential. We set up the Greater Manchester Tech Fund to support our most vulnerable young people to prevent them being marginalised and at a disadvantage from their peers. I'd like to say a huge thank you to everyone at Huawei, for their generous donation to the GM Tech Fund. Huawei's donation will help digitally-excluded young people with the technology and connectivity needed to continue their learning at home while schools and colleges remain closed. "
Victor Zhang, Vice President, Huawei said:
"The shift to remote education has been challenging for all families, but it has been especially difficult for those pupils who don't have the means to participate in video lessons or interact with other children. No pupils should be left behind, but we all know of school children who, through no fault of their own, are facing barriers to the education they should be receiving.
"Huawei remains committed to improving connectivity across the UK, as we have been for the last 20 years. We are eager to help during the pandemic and so we are really pleased to be donating 250 Huawei Pupil Packs to schools in Greater Manchester, with the support of our partners at Three UK. We hope this donation goes some way to breaking down those barriers and helping school children continue their education at this uniquely challenging time."
The products featured in the Huawei Pupil Packs are:
HUAWEI MatePad T10
This tablet combines powerful performance with a 9.7 inch display, dual speaker system and long battery life. It also comes with TÜV Rheinland-certified Eye Comfort technology to reduce harmful blue light, offering better comfort for daily use. The MatePad has both rear and front cameras, perfect for participating in interactive lessons and sharing work directly with teachers and classmates.
HUAWEI 4G Router
This router enables up to 32 devices to share access to the same data SIM card. Simply insert a data SIM into the router and position the router in an area of the house that has the strongest mobile signal. The router then shares this data establishing a local WiFi connection; pupils connect their tablet to the WiFi and they're online.
Pre-paid Data SIM, from Three
Huawei and the North West – In October 2019, Huawei opened a new office in Greater Manchester at the flourishing MediaCityUK complex. The office houses several of Huawei's key business operations such as customer account teams and it serves as an operational base for the company as Huawei develops its business in the Northern Powerhouse.
About Huawei
Huawei is a leading global provider of information and communications technology (ICT) infrastructure and smart devices. With integrated solutions across four key domains—telecom networks, IT, smart devices, and cloud services—we are committed to bringing digital to every person, home and organization for a fully connected, intelligent world.
Huawei's end-to-end portfolio of products, solutions, and services are both competitive and secure. Through open collaboration with ecosystem partners, we create lasting value for our customers, working to empower people, enrich home life, and inspire innovation in organizations of all shapes and sizes.
At Huawei, innovation focuses on customer needs. We invest heavily in basic research, concentrating on technological breakthroughs that drive the world forward. We have more than 188,000 employees, and we operate in more than 170 countries and regions. Founded in 1987, Huawei is a private company fully owned by its employees.
http://www.linkedin.com/company/Huawei