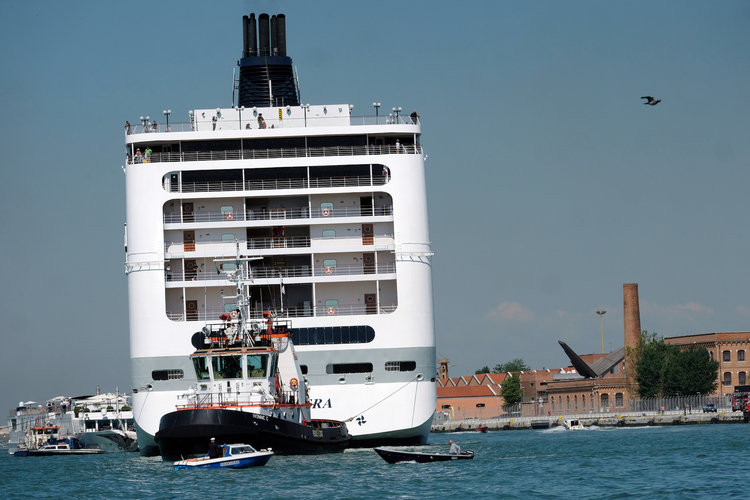 A cruise ship has crashed into a tourist river boat in Venice.
Four women were injured in the early morning collision on the Giudecca Canal, one of city's major waterways.
The luxury MSC Opera liner hit the much smaller passenger boat the River Countess as she tried to dock.
The MSC Opera seemed unable to halt as it approached the San Basilio terminal.
Dozens of frightened on-land spectators fled as the MSC Opera – with warning horns blaring – smashed into the quayside.
A technical problem has been blamed for the incident.
A steel hawser tied to a guiding tug-boat appears to have snapped.
There were 2,679 passengers aboard the MSC Opera.
The liner is 54 metres high and 275 metres long and dwarfs the Venice skyline.
There were 110 passengers on the River Countess.
The collision comes only days after seven people died, and 21 are still missing, when a sightseeing boat capsized on the River Danube in Budapest.
Eyewitnesses say the MSC Opera appeared to lose control after a steel cable that tied it to a guiding tugboat snapped.
Davide Calderan, the president of a Venice towboat association said: "The two towboats tried to stop the giant and then a tow cable broke, cut by the collision with the passenger boat."
The MSC Opera owners, based in Geneva, said the ship experienced a mechanical problem as it was docking.
It says it is co-operating with the authorities to find out what happened.
Huge liners docking in Venice have long been a source of dispute.
Campaigners say the ships damage the city's submerged foundations and disturb buildings.
Italy's Transport Minister Danilo Toninelli said: "Today's accident in the port of Venice proves that cruise ships shouldn't be allowed to pass down the Giudecca anymore.
"After many years of inertia, we are finally close to a solution to protect both the lagoon and tourism."