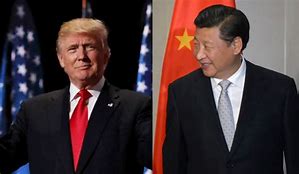 The United States and China have agreed to resume trade talks.
The move will temper a long running disagreement that has helped a damaging global economic slowdown.
The two sides shook hands on the deal at the G20 summit in Japan.
U.S. President Donald Trump and China's President Xi Jinping met aware from the glare of the conference to "talk turkey".
And, in what is seen as a major concession, Mr Trump said he'd allow American companies to continue to sell components to the Chinese tech titan Huawei.
The decision reverses a ban imposed on Huawei last month by the State's Commerce Department.
It was feared that Mr Trump would announce a further tightening of sanctions on China.
Now, he's said he won't impose $300 billion tariffs on Chinese imports.
He said he'd continue to negotiate with Beijing "for the time being".
Despite Mr Trump claiming the trade talks as a U.S. victory, international business analysts believe he has given China just what it wanted on Huawei.
The details of the Huawei deal are still uncertain, but it appears to be a U turn on America's original decision to sanction the tech company.
The U.S. believes Huawei will use its technology to spy on the homeland.
The trade war has gone on for a year.
It flared up only months before the G20 summit when talks between the two sides collapsed.