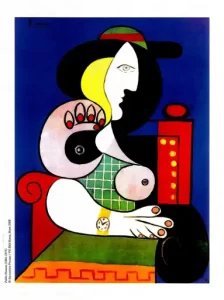 A Pablo Picasso picture of his teenage mistress has sold for more than £113 million.
It is the second highest price achieved by the Spanish born artist.
His Femme a la Montre (Woman with a Watch) also becomes the most valuable work sold at auction this year.
The picture shows Marie-Therese Walter, the French model who was Picasso's lover.
She was the subject of many of his titanic abstract paintings.
Femme a la Montre was previously owned by the late art collector Emily Fisher Landau, who bought it in 1968.
An anonymous bidder bought it at a Sothebys auction.
Ms Walter – known as Picasso's "golden muse" was aged 17 when she met the 45-year-old artist in Paris.
They had a secret affair while he was still married to Olga Khokhlova, a Ukrainian ballerina.
In a career spanning eight decades Picasso more than 150,000 works of art.
He had four children and died in southern France in 1973, aged 92.
Despite his huge influence on art, he has recently been accused of cruelty, womanising and coercive behaviour.