Race report by Fred Warner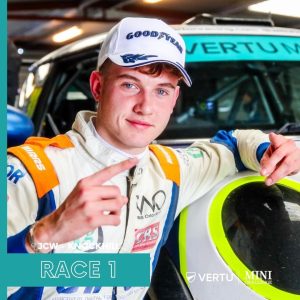 In the world of motorsport, the pulse of excitement quickens whenever the JCW Mini Challenge Championship comes to town, a series that supports the acclaimed British Touring Car Championship.
Among the rising talents in this demanding arena, none shone brighter than Will Orton during the recently concluded fifth round at Scotland's iconic Knockhill Circuit.
After an arduous period at Snetterton that tested his mettle, Will had been keenly focusing on his driver coaching during the summer break.
This weekend, he was back in his cockpit, eyes set on rebuilding his championship campaign.
It was his maiden visit to Knockhill, but Orton's performance bore no signs of unfamiliarity.
In fact, his exploits across the three races confirmed his credentials as a formidable racer, especially in his rookie year.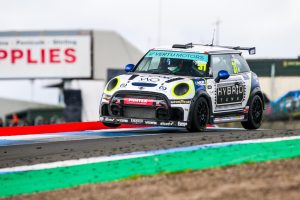 Friday Practice:
As the rubber met the asphalt for the initial practice sessions, Orton made an immediate mark.
Despite being his debut drive at Knockhill, he clocked the third-fastest time overall, showing he was right on the pace and ready for the weekend.
Qualifying:
Scottish weather is notorious for its unpredictability.
Torrential rain splattered the track, making it a test of nerve and skill for every driver.
For Orton, it was also his first time manoeuvring on the wet line.
Still, the young speedster managed an admirable P4 start for the first race.
Race 1:
Knockhill's undulating landscape, filled with twists and overtaking chances, makes it a challenge for any racer.
Add a sudden downpour to that mix, and the stakes rise considerably.
However, Hybrid Tune's gamble to keep Orton on slick tyres in wet conditions paid off massively.
Adapting swiftly, Orton showcased some breath-taking overtaking moves, ones he fondly termed as "the best overtakes of his life", propelling him to a glorious win.
Race 2:
Starting from pole, a slight hiccup off the line saw Orton slide to the third spot.
But he wasn't to be subdued.
Battling fiercely, he climbed back to second, narrowly missing out on victory by a mere two-tenths of a second.
A post-race penalty did relegate him to third, but his intent and capability were clear for all to see.
Race 3:
The third race was as nail-biting as they come.
LIVE on ITV4, and starting from P4, Orton gave fans yet another adrenaline-pumped performance, duelling his way to clinch third.
Will leaves Knockhill with three podiums in three races.
Not only that, Will also got the FASTEST lap for the overall weekend.
The weekend at Knockhill has certainly been a reaffirmation of Will Orton's talent and determination.
In a season marked by highs and lows, his resurgence in Scotland serves as a beacon for his supporters and a warning to his competitors.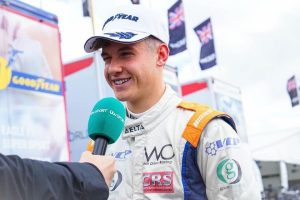 As the JCW Mini Challenge 2023 season advances, all eyes will surely be on Orton's next move.
For potential sponsors and supporters, Will Orton's performance offers a glimpse into the world of motorsport at its finest — a world of skill, precision, and heart-pounding excitement.
As he continues to build upon his promising career, the stage seems set for more thrilling races in the chapters ahead.