Match report by John Anthony
An unbeaten 131 by stand-in skipper Spencer Taylor saw Flintham 1st XI to a remarkable sixth win on the trot.
Set 256 to win by a competitive Hoveringham, Flintham were one down after three balls.
A second wicket feel soon after, bringing together Joe Cook and Taylor.
They put on a stand of 152 to steer Flintham to victory and the full 20 points – keeping them top of the league table.
Under a blameless blue sky, the ground was picture perfect overlooked by its smart pavilion and the patrons in the garden of the village pub, The Reindeer.
Flintham won the toss and chose to field.
The pitch looked to be full of runs.
Hoveringham batted strongly from the start, setting a challenging 256 for nine.
Flintham's spin bowler Finn Simpson proved a handful for the batters.
He bowled an immaculate line and length and had figures of 11 overs two for 42.
However, his last over was cracked around the ground for 21.
Cricket can be a cruel mistress.
Pick of the Flintham bowlers was James Hazzledine brought into the attack in the 34th over.
He ended with figures of 6.3 overs four for 32 before he limped off as Bumble would put it "gone in the fetlock".
Cook and Taylor displayed a combination of resolute defending and powerful hitting.
Cook was out on 61.
Man of the match was Taylor and his unbeaten 131.
His scoring rate accelerated throughout his innings with his 50 coming off 53 balls and his 100 off 95.
A captain's innings if ever there was one.
After the game he said modestly:
"A great team performance, now on to next week"
Meanwhile, Flintham 2nd XI overcame Notts and Arnold 4th XI by 176 runs.
Setting a remarkable 285 for 2 off 36 overs with opener Graham Lockwood scoring 117 not out.
The visitors were all out for 109 with Josh Grundy taking four for 19 runs.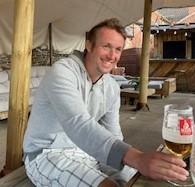 A welcome pint for Flintham 2nd XI hero Graham Lockwood