Match report by B Anthony
The final ball during a nail-biting finish determined the outcome of the cricket match between Flintham 1st Xl and Calverton 1st Xl.
Flintham needed four runs to win and Calverton needed a wicket to snatch victory.
And it was Flintham's Tom Helliwell who took the day with a straight six back over the bowler's head.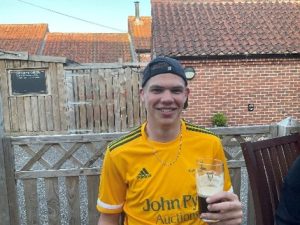 Man of the Match Tom Helliwell
Tom said: "A four off the last ball!
"I thought it best make it a six."
Calverton won the toss and batted first and posted a respectable 205 for 9 with a top score of 53 by Brindsley Kirkham.
Economical bowling performances by Spencer Taylor and Finn Simpson limited the score, although there was some strong hitting towards the end of the innings.
A right-handed flying catch by Hugo Orme to dismiss Will Peat was the champagne moment of the game.
Hugo said: "I just launched myself and kept my eyes shut and the ball stuck."
A strong all round team performance by Flintham kept them in touch throughout their innings but there was some smart fielding by Calverton.
Two young men impressed, Cameron Andrew and Sam Lincoln each clean bowled three Flintham batsmen and special mention must go to the 14-year-old wicket keeper, William Andrew.
These three are ones to watch in the future.
Man of the match for Calverton was Kirkham – 53 runs and two wickets.
Flintham batted solidly, managing to withstand the bowling onslaught needing seven runs off the last over.
A leg bye, two singles, a wicket, a dot led them needing to score four off the last ball to win.
Also worthy of note were the performances of the two Playle brothers – Jack and Michael – who as juniors spent many hours playing against each other in their backyard.
Flintham's top wicket-taker was Jack with three and he used to bowl to his brother Michael who was never "out".
In this match however, Michael scored 39 runs, only just behind Flintham's top scorer Joe Cook with 42.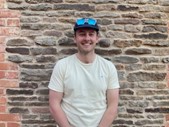 Joe Cook – top scorer
Flintham's win leaves the newly promoted side on top of the table.
Meanwhile, Flintham's Second Xl also find themselves top of their respective league after another win.
Top scorer Anthony Barrowcliffe with 54 out of the total of 109 needed to beat the 105 posted by Burton Joyce.
Also noteworthy was Matthew Isherwood for his bowling figures of three overs, four wickets for five runs.