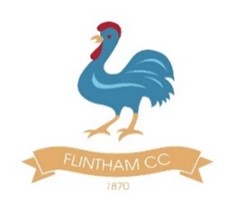 Match report by B Anthony
After a very wet start to the season, cricket finally got underway for Flintham Cricket Club as they travelled to Thurgaton for their first match in Division B in the South Notts League.
The damp outfield made boundaries hard to come by so a low scoring game was in prospect.
After winning the toss, Flintham chose to bowl, predominantly so they knew what score they would need to chase and not, as suspected, that the Flintham players wanted to follow the important football games taking place in London, involving Nottingham Forest and Notts County.
Batting did indeed prove difficult and scores were kept low by some solid bowling from both teams.
Flintham bowling out the Fiskerton and Thurgaton team for 155 runs in the 47th of the 48 designated overs.
Sunil Shrestha (37) and Mark Walsh (35) made highest scores.
There were good bowling performances by Flintham, especially from Spencer Taylor whose figures were two for 21 of his 12 overs.
The last six overs were all maidens and included 2 wickets.
Flintham's batting proved successful with some very responsible performances with James Taylor scoring 34 and Vice-Captain Tom Southall scoring 36 not out.
Flintham coming out victors scoring the required 156 runs in 46.5 overs.
They took 20 points.
Man of the Match for Flintham was Tom Southall but mention should be made of the good all round performance by Sunil Shrestha of Fiskerton and Thurgaton  and for Flintham's Finn Simpson for impressing on his 1st XI debut bowling 12 overs straight from the uphill end.
Next Flintham 1st Team Match sees them travel to Eastwood Town on Saturday 20th May.