England rugby World Cup winner Lewis Moody – known as "Mad Dog" by teammates and fans – has shown a softer side.
Yet, it's a side that shows far greater bravery than his days as a fearless six foot three, sixteen stone number 7 flanker.
Moody, 42, is one in ten men who suffers from controlling their bladder and bowel.
He admits he wears wears absorbent pads.
However, unlike women who have special bins for period and incontinence pads, men have nowhere to dispose of theirs.
An already difficult problem is suddenly a lot worse.
Moody suffered from bowel incontinence because of ulcerative colitis.
He kept the "embarrassing" condition from teammates.
He found himself planning journeys around possible toilet stops.
He even moved house to be nearer the training ground.
He is now backing the "Boys Need Bins" campaign for more disposal facilities  to help men with "sanitary" problems.
Moody told The Guardian:
"As a sportsman, I was used to coping with injuries, but the humiliation of not always being in control was terrible.
"Not having places to dispose of incontinence underwear or pads in toilets makes the experience much worse than it needs to be.
"You must plan your journeys in advance, but even then, you can't guarantee you'll be able to find a toilet that has the right facilities.
"It can make you anxious when you're just trying to live a normal life.
"We need this to change.
"This is why we're calling on the government to make the provision of sanitary waste disposal bins in all public washrooms mandatory."
The NHS reports that more than half a million adults in the UK experience faecal incontinence.
The "washroom dignity" campaign, launched by Bladder and Bowel UK and Initial Washroom Hygiene, comes amid growing awareness of female urinary incontinence that follows child birth.
Karen Irwin, a specialist nurse at Bladder and Bowel UK, said:
"Bladder and bowel problems are a common occurrence, but all too often stigmatised and later undiscussed.
"Many people with incontinence do not seek help due to embarrassment, lack of awareness of treatment options, or consider incontinence to be a normal part of the ageing process."
Jonathan Hall, 61, has urinary incontinence problems after prostate cancer treatment.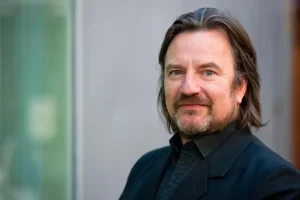 Jonathan Hall
The advertising executive said:
"There's a time when you suddenly realise, perhaps because you've been laughing too heavily with somebody, you feel [the pad is] full and you've got to change it.
"When I was first confronted by this, I was walking in a car park.
"And you go to the loo, and you realise there's nowhere to put this thing.
"You have to plan your day in a different way."
Hall added:
"If you think about the bar room bragging that goes on, the last thing you talk about is the fact that you're incontinent.
"It's never been a subject of discussion, as a result of which it has remained under the radar."
He said women he had discussed it with had said:
"When we've had children, we can't go trampolining, there are things we can't do.
"Our bladder control is gone.
"But we have all the facilities in place to make sure we don't get caught short, which you guys don't have."
A spokesperson for the Department for Levelling Up, Housing and Communities said it welcomed the campaign.
"We're providing up to £30m to councils so they can make toilet facilities more accessible, including to help men with health needs.
"All of these can include sanitary waste bins."