The owner of a £500,000 Ferrari SF90 was left devastated when the car was left twisted and mangled after a crash.
The 211 mph Ferrari – said to be the quickest car of the decade – was left in bits after the accident in the West Midlands.
The car – which can go from 0-124 mph in under seven seconds – was found by the emergency services in Halesowen.
It appears to to have hit three other vehicles.
No one was injured in the incident.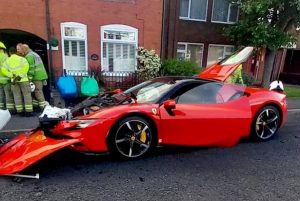 Picture: West Midlands Fire Service
Haden Cross Fire Station shared the images on Twitter and wrote:
"RTC Hagley Road, Halesowen – White Watch attended.
"Please be careful when out and about."
Twitter users responded:
"Looks nasty, how gutted would you be??
"Hope everyone is ok."
Another wrote:
"That's going to cost some serious money to put right.
"I'd be devastated, that car cost more than my house."