A conservation project to save coral reefs in the Maldives has been boosted by members of a hockey club more than 5,600 miles away.
The West Bridgford team in Nottinghamshire raised £2,080 to help the scheme based in the Indian Ocean.
The money will go towards buying 12 specially made metal mounts with pieces of live coral tied to the framework.
The donation was in the name of Elizabeth Braund – a hockey player with the club.
The frames are dropped into the sea to help to re-build the reefs that have been destroyed by rising temperatures.
The re-generation of the "bleached" reefs is part of a programme by Reefscapers, based in the Indian Ocean atoll.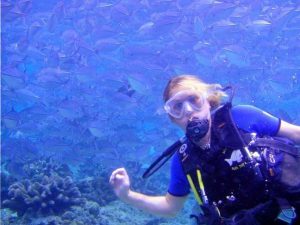 Elizabeth – known as "Bissie" – died from a rare cancer within weeks of being diagnosed.
She was aged 31.
She was a pupil at Toot Hill School in Bingham before moving to The Becket in Nottingham.
Bissie studied biological sciences at the University of Oxford – getting a first-class honours degree.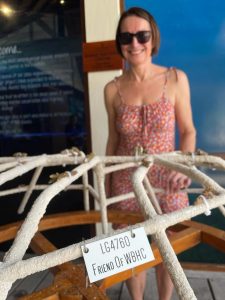 Scientist, Dr Sharon Cheetham, from West Bridgford Hockey Club, said:
"I first met Bissie when she was at Toot Hill, and I coached her at the hockey club.
"She became a first team player.
"Bissie came back to WBHC when she was home from Oxford and when she worked in Nottingham as a teacher at the Djanogly school.
"She also worked at ReniSci Ltd – a Nottingham company I co-founded.
"I was on honeymoon in the Maldives when I heard Bissie had lost her fight against cancer.
"It was Valentine's Day.
"We were staying at the Four Seasons because it had a marine biology centre, the Reefscapers programme and a turtle sanctuary.
"So, I knew at once that a heart shaped coral reef in memory of Bissie was the perfect way to remember her.
"When Bissie died, we lost one of the WBHC family.
"There is an order of things in life but when someone so young dies the order is broken.
"The sadness that we all felt was indescribable."
The WBHC players and coaches organised raffles and people donated money.
In all, the club raised £2,028 – enough to buy 12 coral reefs to be laid in the Indian Ocean.
Sharon added: "The reefs represent a new beginning and so Bissie's sad and untimely death is not the end but the start of something that will be there long after we have all gone.
"It also represents her commitment as an environmentalist.
"It is truly special."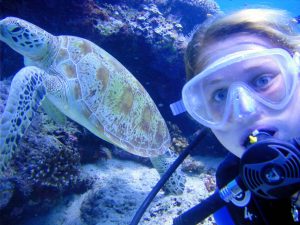 Bissie lived in Flintham, near Newark.
During the preliminary stages of the Covid-19 pandemic her mother Sarah made hundreds of face masks, with the money going towards the coral reef project.
And her father Phil, a retired ITV Central Head of News, made bird boxes.
Sarah, 60, a college lecturer, said:
"Bissie was a great adventurer who was passionate about saving the environment from being a teenager.
"She loved diving and was concerned about the ecological challenges facing our seas and its marine wildlife.
"The coral reef frames are a perfect way to remember her.
"It is especially wonderful that her hockey friends have raised so much money towards expanding 'Bissie's Reef'."
The nearby atoll of Amilla Fushi is also starting its own coral reef frame project.
It too laid a memorial metal frame in Bissie's name.
The Maldives are 1194 tiny coral reef islands strung in two lines along the Indian Ocean.
It has 3% of the world's coral reefs.
The reefs are made up of 187 known species of coral and attract thousands of different fish, sea turtles, sharks, whales, and dolphins.
Coral – closely related to jellyfish and anemones – is home to one of the world's most diverse ecosystems.
It also offers a natural barrier to protect land from wind and waves.
However, more than two thirds of the Maldives' coral reefs have been wiped out by the weather phenomena El Niño as the sea temperature rose 10 degrees Fahrenheit.
The disaster is known as "coral bleaching" – an algae in the coral is expelled because it's under stress from rising warmth.
The coral turns white and slowly dies.
Reefs worldwide have been affected by bleaching.
Marine Biologist Dr Ameer Abdulla, a senior adviser to the International Union for Conservation of Nature (IUCN), said:
"Bleaching events are becoming more frequent and more severe due to global climate change.
"Preliminary findings of the extent of the bleaching are alarming, with initial coral mortality already observed.
"We are expecting this mortality to increase if bleached corals are unable to recover.
"What really gets to me is the amount of life that is happening in coral reefs.
"Everything is there for a specific function.
"There are the fish that are the doctors and the corals that are the architects.
"If you move any of these roles then you have a coral reef that's not functioning well."