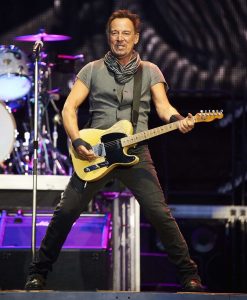 Bruce Springsteen has sold his catalogue of songs for a reported £375 million.
Sony has snapped up the body of work – including classics such as Born To Run and Born In The USA.
Springsteen – "The Boss" – has also written hits songs for other performers.
The deal is thought to be the biggest ever struck for a songwriter's work.
Paul Simon recently sold his work to Sony.
Meanwhile, Bob Dyland sold his songs to Universal Music Publishing.
Springsteen, 72, has been a recording artist with Columbia Records, which is owned by Sony Music, for the whole of his of his five-decade career.
Until now he has always controlled the rights to his songs.
The New York Times reported:
"The arrangement, which has been gossiped about in music industry circles for weeks, includes both Springsteen's recorded music catalogue and his body of work as a songwriter.
"It will give Sony ownership of Springsteen's complete collection of classic songs."