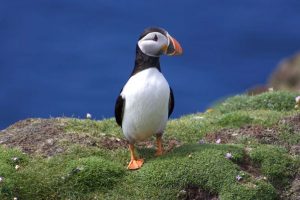 More than 100 dead puffins have washed up on Scottish beaches in the last few weeks.
It is one of the worst ecological disasters to hit the bird in decades.
The puffins are "emaciated" – suggesting they are struggling to find food in the marine food chain.
It's feared the deaths will affect next seasons breeding season.
Seabird ecologist Dr Francis Daunt described it as "one of the most significant puffin 'wrecks'" in nearly 50 years.
He added:
"It is worrying to see puffins also washing up dead and sick.
"We hope to be able to carry out post-mortems on them as well."
The UK Centre for Ecology & Hydrology (UKCEH) is watching the situation.
Dr Daunt said the dead puffins are "emaciated" suggesting issues "within the marine food chain".
One possible explanation is a food shortage caused by higher than normal temperatures in early September.
Another theory is toxic poisoning from algal blooms.
If you come across a dead puffin the UKCEH advises that you do not touch it.
Instead, where possible, carefully take a photo of the bird showing its beak and wings clearly and send it to [email protected].
If you spot an alive puffin that appears unwell, contact the SSPCA or the RSCPA.