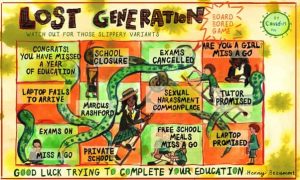 Lost Generation by Henny Beaumont
Cartoonist Henny Beaumont has won the 2021 Covid Cartoon of the Year award for her work "Lost Generation".
Her drawing illustrated the plight of young people during the pandemic.
Ms Beaumont said:
"Winning this award has felt really significant for me and it feels like there is a real move towards appreciating and recognising the contribution women are making to political cartooning and I am proud of being part of this movement.
"The cartoon is dedicated to all the young people who missed out on so much during lockdown, had such a tough time and took so seriously their responsibility to protect those more vulnerable than themselves."
The cartoon appeared in The Guardian newspaper.
Guardian cartoonist Ben Jennings was named political cartoonist of the year.
Jennings said:
"I never imagined when I was a kid scribbling with crayons that I'd be doing much the same as an adult to document a plague in real time."
London based employment agency Ellwood-Atfield sponsor The Cartoon of the Year awards.