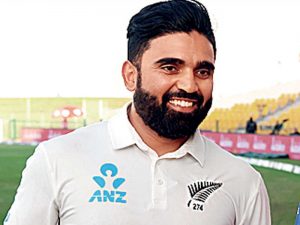 Test cricketer Ajaz Patel has taken all ten wickets in a innings – only the third bowler in cricket history to achieve the feat.
The New Zealand left-arm spin bowler ran through India's batting to return figures of 10-119.
Patel said afterwards:
"These kinds of things probably don't sink in until later, if I'm honest.
"Obviously, it's a special moment, I'm not going to lie about that.
"It's brilliant for me and my family, my mum, my dad and all their support and my wife all her support.
"It's never easy being a cricketer, you're spending a lot of time away from home.
"To be able to come back home to Mumbai and to produce something like that is quite special.
'I'm grateful to God that he's blessed me with this occasion in my cricketing journey so it's really, really special for me."
Only two other players – both spin bowlers – have taken all ten wickets in an innings.
England bowler Jim Laker was the first to take a Test "ten-for" playing against Australia in the 1956 Ashes match at Old Trafford.
Laker went on to take nine wickets in the second innings – giving him 19 victims in a Test match, a record that still stands.
Indian spinner Anil Kumble is the other player to bag all ten in a Test innings against Pakistan in 1999 in Delhi.
Kumble was among the first to congratulate Ajaz.
He tweeted: "Welcome to the club #AjazPatel #Perfect10 Well bowled!"