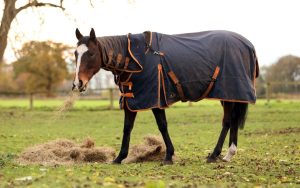 A granny has been found guilty of harassment after feeding a retired racehorse carrots and apples.
Margaret Porter, 67, thought Nelson looked under-fed and would "starve to death".
She took to feeding the horse buckets of apples and carrots – despite a nearby sign asking people not to do so.
Owner Suzanne Cooke, 50, of Scruton, North Yorkshire, was concerned Nelson would become ill with the over attention.
She asked Ms Porter to stop.
Ms Porter told York Magistrates' Court:
"I saw him [Nelson] standing outside his stables and I thought he looked quite sad.
"I didn't examine the horse, but I noticed him.
"The fields were frozen at the time and there was snow on the ground.
"I passed six or seven times a day and didn't see his owner with him once.
"He looked thin, and I began speaking to people about my concerns in the hope someone would take it on board and try and get her to look after the horse properly.
"I was getting quite distressed about the situation.
"I decided to give him a few carrots at the fence, it never occurred to me that anyone else would be bothered about that, I just didn't want him starving to death."
Nelson raced three times under the name "You'redoingwell".
Ms Cooke said she challenged Ms Porter asking 'why are you feeding my horse?
"'Do you realise what you are doing?
"'You could poison my horse or give it colic and make it ill'.
"She replied: 'you can ring the police, I'm not bothered'.
"I am tired of this happening and worried that she may make my horse ill, I don't know what she is giving it."
Sitting at York Magistrates' Court Hilary Fairwood said:
"Her [Ms Porter] conduct was not reasonable, and we find her guilty of the charge."
Ms Fairwood said it was necessary to impose a restraining order for the protection of Nelson.
Addressed to the defendant, it reads: "You must not put food in the field for the horse and must not interfere with the horse in any way."