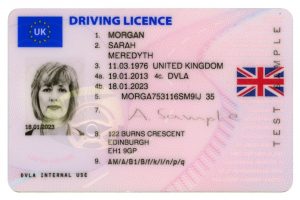 Picture: UK Government
Britain's drivers could save £2.3 million a year if they renewed licences online.
The Driver and Vehicle Licence Authority (DVLA) reveals half a million applications for new documents were sent by post.
For example, renewing a photocard licence online costs £14 – and it comes within five days.
Applying by post to the DVLA costs £17 – and delivery could take months because a third of staff are still working from home.
Julie Lennard, chief executive of the DVLA, said:
"Our online services are the quickest and easiest way to deal with DVLA, and customers usually receive their driving and vehicle documents in just five days."
Lennard warned people to use only the official channel when renewing online.
It's against the law to drive without a licence and can result in three to six penalty points and a fine of up to £1,000.
Also, not holding a valid driving licence could lead to an insurance claim being rejected.
Paul Evans, head of Co-op Motor Insurance, said:
"Due to last year's national lockdown, motorists with driving licences which expired between February and December received an automatic 11-month extension to renew their licence.
"However, over 450,000 motorists whose driving licence expired between September 2020 and August 2021 need to be sure they've renewed, as they run the risk of facing a serious fine.
"We're urging all drivers to check their licence and renew quickly if they need to."