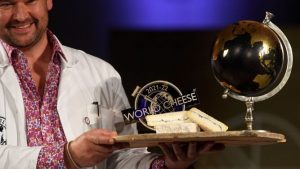 Quelle fromage! The world's best cheese has been chosen – and it's not French.
A soft, slow-pasteurised Spanish goat's cheese has taken top honours at the World Cheese Awards.
It beat four thousand other cheese entrants from five contients.
Olavidia is made in Andalusia by six people in a family run business.
The cheese has a white mould crust and a thin line of edible black ash running through the centre.
Judge Jason Hinds, sales director at Neal's Yard Dairy, said:
"The cheese stole my heart.
"It's like nothing I've seen before.
"It had an incredibly rich, unctuous, creamy texture, it was pillowy, warm and comforting, and the flavour was rich, round and long.
"I just wanted to go to bed with it."
The cheese won by five more points than a French epoisses.
French wartime leader and later President, Charles de Gaulle famously said of France:
"How can anyone govern a nation that has 246 different cheeses?"