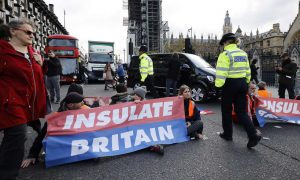 Insulate Britain activists have blocked two roads around Parliament Square in London – bringing Westminster to a halt.
Sixty-two members of the splinter group from Extinction Rebellion have occupied the key streets.
More than half have glued themselves to the road surface.
Protester Paul Sheeky, told the PA news agency:
"We have been out on the road now for several weeks and a lot of the time the drivers say to us 'this is not the right way to be doing this, go to Parliament, protest there'.
"We thought we would take that advice and give it a go.
"We know from protesting in Parliament in the past it doesn't work, which is why we have to protest on the roads, but we thought we would come here all together as a show of unity just to say, yes we are going to keep going.
"This is fine compared to what is coming from the climate crisis, this is a walk in the park essentially.
"The death and destruction that is on its way unless we tackle this issue is just beyond imagining.
"A slight discomfort now is a small price to pay for saving lives in the future."