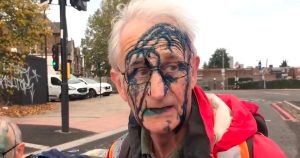 Angry drivers threw ink over Insulate Britain protesters blocking roads in Kent and west London.
The activists occupied the roads in North Acton and the Dartford Crossing exit.
The police have made arrests at both sites.
Banners were ripped out of the hands of demonstrators – and ink was thrown in their faces.
Some demonstrators had glued themselves to the road.
A Kent Police spokesperson said:
"Officers arrived at the scene within minutes and by 8.30am traffic was flowing in both directions.
"Each of the individuals was arrested on suspicion of obstructing a highway and conspiracy to commit public nuisance.
"They remain in custody as enquiries continue."
One protester, Suzie, 47, from Cambridge, said:
"If going to prison and losing my home is what it takes to get the Government to do the right thing and cut our carbon emissions then it's a price worth paying.
"I can't be a bystander while this Government betrays the public, our children and future generations by failing to defend our country from the climate crisis.
"Insulating Britain's leaky homes has to come first.
"It will cut out a huge chunk of our carbon emissions, help families struggling with their energy bills and end fuel poverty."
Insulate Britain – an off-shoot of Extinction Rebellion – has warned its members will continue to block key roads in and out of London.
A Metropolitan Police spokesperson said 17 people have been arrested at Acton.
They added: "Six of whom have locked themselves to the ground in order to frustrate our response.
"Specialist units are on scene to unglue them."