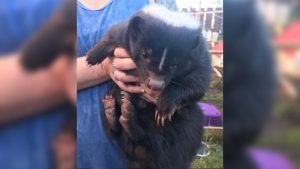 Picture: RSPCA
A runaway skunk has been found in a B&Q at Worksop.
Tilikum vanished from his home seven days earlier.
He was spotted outside the store in Nottinghamshire and captured by staff.
They gave him water and a bed of hay to sleep on.
The skunk – a native to North America – was not injured and was later reunited with his owner.
RSPCA inspector Dan Bradshaw said:
"A staff member was opening up when they spotted a flash of black and white dart across the ground outside the shop.
"The animal been eating bird seed that had fallen off a bird table.
"They managed to corner him and confine him in a pallet trolley before calling us for help.
"They'd made him feel quite at home with a tray of water and some hay to hide in.
"They even left a note on his makeshift cage asking other staff arriving for work to be quiet so as not to wake him from his snooze.
"It was very sweet.
"Thankfully he didn't seem to find his capture too alarming and hadn't released his spray in defence – otherwise it would have been a much smellier rescue mission."
Tilikum's owner, she was eventually tracked down in Worksop.
They have been recommended having him fitted with a micro-chip