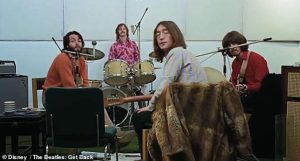 Picture: Disney+
Intimate behind the scenes footage of The Beatles in their last days has been released by Disney+.
The trailer is for the documentary Get Back – directed by Oscar winner Sir Peter (Lord of the Rings) Jackson.
The four minutes' clip has previously unseen footage of the band planning a live show and writing an album in less than three weeks.
The documentary relies heavily on 57 hours of unseen film shot by Sir Michael Lindsay-Hogg in 1969.
The trailer says:
"The footage has been locked in a vault for half a century.
"Unseen…until now."