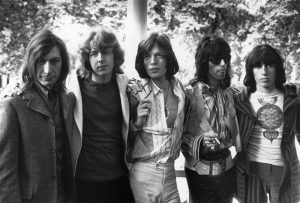 Library picture
The Rolling Stones have dropped Brown Sugar from their act after allegations the song's lyrics are about slavery and black women.
There have also been questions about the song's overt references to sex, and drugs.
It has now been removed from The Stones current tour of America.
Guitarist Keith Richards said:
"Didn't they understand this was a song about the horrors of slavery?
"But they're trying to bury it.
"At the moment I don't want to get into conflicts with all of this s***."
Richards, 77, said he was confused by people who wanted to "bury" the chart-topping track.
He wondered "where the beef was".
He added: "Hopefully, we'll be able to resurrect the babe in her glory somewhere along the track".
Critics claim the song has "stunningly crude and offensive lyrics" that are "gross, sexist, and offensive towards black women".
After Jumpin' Jack Flash it's the groups most played stage song with 1,136 live performances.
Its opening guitar riff is said to be one of rock and roll's greatest.
In 1995 Sir Mick Jagger said he was uncomfortable with the lyrics.
He added: "God knows what I'm on about in that song.
"It's such a mishmash.
"All the nasty subjects in one go."