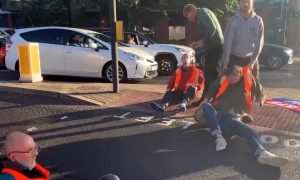 Library picture
Insulate Britain is to stop blocking roads as its activist members face prison for contempt of court.
The protest group has written to the Prime Minister Boris Johnson calling off its actions.
In the last few weeks protesters have blocked roads and ports 13 times.
Recently the protests have ended in scuffles and fights with angry motorists.
Drivers have dragged men and women off the road after ripping banners from their hands.
Five members of Insulate Britain – an off-shoot of Extinction Rebellion – were flanked by police officers as they stood outside No 10 to read out a statement for the press.
It said: "We cannot imagine undertaking such acts in normal circumstances.
"But the dire reality of our situation has to be faced."
More than 50 members of Insulate Britain have broken a High Court injunction to stop them blocking roads.
People who break injunctions can be jailed for contempt of court.