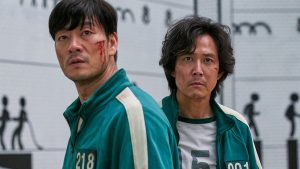 Picture: Netflix
Squid Game is Netflix's biggest ever series launch.
The Korean drama was watched by 111 million people in its first 28 days.
The previous record holder was Bridgerton with 82 million viewers.
Netflix counts a view as anyone who's watched an episode for two minutes.
Bosses at the streaming service say the show's success is "beyond our wildest dreams".
Vice President Minyoung Kim told CNN:
"When we first started investing in Korean series and films in 2015, we knew we wanted to make world-class stories for the core K-content fans across Asia and the world.
"Today, Squid Game has broken through beyond our wildest dreams."
The nine-part series opened in September.
It's about a group of misfits taking part in a series of children's playground games.
There's a prize of £28 million for the winner – but if you lose, you die.