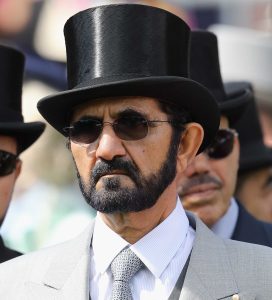 Disgraced Sheikh Mohammed bin Rashid Al Maktoum has been excluded from the Royal Box at Ascot, it is reported.
The decision is an attempt to try to put distance between the Queen and the Sheikh.
The Sheikh has played in a big part in the Queen's racing circles.
He has gifted her racehorses and she has given him a seat in the Royal carriage at Ascot.
The Shiekh, 72, was criticised in the High Court by Sir Andrew McFarlane, the president of the Family Division.
He found the Dubai ruler had committed a "total abuse of trust, and indeed an abuse of power" by targeting "unlawfully" with "sophisticated spyware" phones belonging to his former wife Princess Haya, and Baroness Shackleton, Britain's foremost divorce lawyer.
Princess Haya – the daughter of King Hussein of Jordan – was given permission to hand over the findings to the police in the Metropolitan, Thames Valley and Surrey forces.
A copy could also be sent to the National Crime Agency.
The legal source told The Daily Telegraph:
"The Queen cannot hobnob with the Sheikh now.
"His reputation has been trashed – totally, totally trashed and all because of his own actions.
"He brought the original application.
"It is the greatest own goal in legal history."