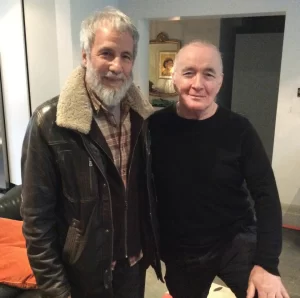 Picture Instagram. Cat Stevens and Barry Ryan
Barry Ryan who topped charts with the melodramatic song Eloise – written by his twin brother Paul – has died.
He was aged 72.
Paul and Barry Ryan were a successful duo until 1968 when Paul decided not to perform any more.
Barry continued his singing and had a string of hits written by his brother.
Eloise was a song of epic production – sweeping orchestral sounds and sudden changes in tempo.
It ran for five and a half minutes – a fact pointed out by Freddie Mercury to his record label EMI.
EMI was reluctant to issue Bohemian Rhapsody as a single because it was "too long" – coming in a five minutes 54 seconds.
Barry was born to Marion Ryan, a 50s pop singer.
His step-father was Harold Davidson – a major entertainment agent on both sides of the Atlantic.
The twins' godfather was Frank Sinatra.
Barry's close friend Cat Stevens paid tribute to the musician on Instagram.
Stevens said: "Yesterday a good old buddy of mine passed away, his name was Barry Ryan.
"Our time together began back in the 60's when he and his twin brother, Paul, were all tuxedo-suited, poppy teenage stars.
"I had written a song for Paul and Barry Ryan called 'Keep It Out Of Sight' and so we began hanging out.
"When I spoke with him recently, he told me he was fully at peace knowing he only had a short time left on this earth."