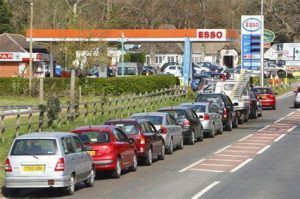 Library picture
Army HGV drivers are to deliver fuel to petrol stations next week.
The Government is concerned motorists are still queuing more than a week into the crisis.
It was thought the problem was easing as more people filled their tanks and some deliveries were coming through.
More than 200 soldiers – including 100 drivers – have been training with haulage firms.
Defence Secretary Ben Wallace said:
"Across the weekend over 200 military personnel will have been mobilised as part of Operation Escalin.
"While the situation is stabilising, our armed forces are there to fill in any critical vacancies and help keep the country on the move by supporting the industry to deliver fuel to forecourts."
Cabinet Office minister Steve Barclay appealed to motorists to stop panic buying at the pumps
He said: "The Government has taken decisive action to tackle the short-term disruption to our supply chains, and in particular the flow of fuel to forecourts.
"We are now seeing the impact of these interventions with more fuel being delivered to forecourts than sold and, if people continue to revert to their normal buying patterns, we will see smaller queues and prevent petrol stations closing."