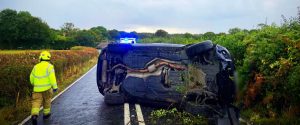 Credit: PC Tom Van Der Wee
Katie Price has pleaded guilty to driving while disqualified and not being insured.
The 43-year-old reality star has had her sentence postponed until December 15th.
Meanwhile, she will have treatment for drink and drugs addiction at The Priory rehabilitation unit.
Ms Price – who crashed her car in the early hours of the morning – was warned by the court not to drive during this time.
She pleaded guilty to drink driving, driving whilst disqualified and driving without insurance.
The former glamour model wasn't due to have her licence back until the end of the year.
Price appeared at Crawley Magistrates' Court.
Magistrates Julie Hutton warned her:
"We regularly send people to prison for driving whilst disqualified."
The court heard that at the crash scene Ms Price was heard saying:
"I took drugs, I should not be driving, I admit it all."
She gave a positive reading for cocaine.
And a roadside breath test taken was positive for alcohol.
Defence solicitor Joe Harrington said: "She has had a lot of personal problems recently.
"Currently she is in the process of bankruptcy proceedings so her house may be repossessed.
"So quite a lot going on in this lady's life, a really difficult period.
"As I understand it she had been drinking, she was lonely and she decided to go and see a friend who lived a relatively short distance away and that is when the incident happened."