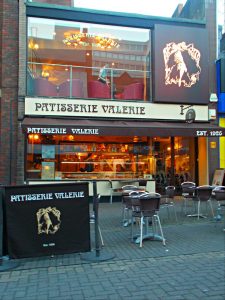 Accountants Grant Thornton has been fined £4 million for its failures when auditing cake chain Patisserie Valerie.
The fine on Britain's sixth largest accountancy firm was for audits carried out between 2015 and 2017.
The Financial Reporting Council (FRC) said the company had "missed red flags".
It also did not question "information supplied by management".
David Newstead, who oversaw the audit, was personally fined £150,000 for his part in signing off the accounts.
Claudia Mortimore, deputy executive counsel to the FRC, said:
"This decision notice sets out numerous breaches of relevant requirements across three separate audit years, evidencing a serious lack of competence in conducting the audit work.
"The package of financial and non-financial sanctions should help to improve the quality of future audits."
The £4m fine was adjusted for "aggravating and mitigating factors" and dropped to £2.34 million
Mr Newstead's fine was also adjusted to £87,750 for the same reasons.
In addition, he was banned from carrying out audits for three years.
A spokesperson for Grant Thornton said:
"We have co-operated fully with the FRC and acknowledge the investigation's findings.
"We regret the quality of our work fell short of what was expected of us in this instance."