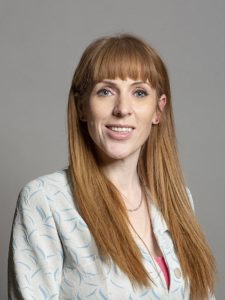 Labour deputy leader Angela Rayner has refused to say sorry for calling Tories "scum".
Ms Rayner made the remark to activists during a fringe meeting at the party's conference in Brighton.
She claimed she was referring to the Conservative cabinet and past comments made by prime Minister Boris Johnson.
When invited to apologize to the 14,000 Conservative voters in her Ashton-under-Lyne constituency Ms Rayner said:
"I am not saying that anyone who voted for the Conservatives are racist, scummy and homophobic.
"The Prime Minister said those things and acted in that way.
"If the Prime Minister wants to remove himself from [his] comments, which are racist, misogynistic, and homophobic, I'm quite happy to apologise for calling him scum."
Labour leader Sir Keir Starmer said:
"I wouldn't have used those words and I will talk to Angela later on."
However, he said it was "up to Angela" to decide if she should say sorry or not.
Grant Shapps, the Transport Secretary, said Ms Rayner's "appalling comments have no place in public life".