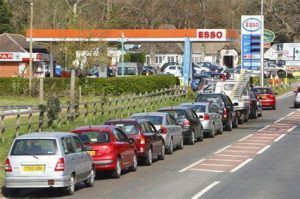 Library picture
Motorists are forming long queues at petrol stations as fears of a fuel shortage sharpen.
People are starting to panic buy as suppliers are struggling to make deliveries.
There is plenty of fuel available but few drivers to deliver the goods.
It's reported the Government is considering bringing in the army to drive fuel lorries.
Meanwhile, drivers are being urged not to let their fuel level gauge drop below a quarter.
BP and Esso have closed some petrol stations because they cannot supply fuel.
Britain is suffering from an acute shortage of HGV drivers.
Although the Road Haulage Association has warned of dwindling numbers for some time, the problem has been worsened by Brexit and the Covid-19 pandemic.
Grant Shapps, Transport Secretary, said:
"I will look at every possibility, every way of sorting this.
"With regard to things like whether there's a role for military, obviously, if there is, if that actually helps, we'll bring them in."
A Government spokesperson said:
"There is no shortage of fuel in the UK, and people should continue to buy fuel as normal."